This is a response to an article: "10 Facts That Suggest Obama's Birth Certificate is Fake" at MrConservative.com. The bold-face numbered items are from that article.
1. No one knows where Obama's real birth certificate is.
We actually know exactly where it is. Fox News reported in 2011:
More than a month before Donald Trump began his media blitzkrieg over the issue of President Obama's birth certificate, the document was quietly moved to a more secure location within a dual combination-key lock safe inside the state's health department vault.

The certificate was moved there by Alvin Onaka, Hawaii's State Registrar, in response to what had already become an increasing number of media requests by FoxNews.com and others, according to sources.
Mr. Conservative goes on to write: A document that's scanned will have only one layer, which is the image itself, something that even most birthers today know is false.  The conservative National Review published an article in 2011 immediately after the first layer nuttery surfaced on the Internet explaining that layers are normal. Nathan Goulding wrote:
I've confirmed that scanning an image, converting it to a PDF, optimizing that PDF, and then opening it up in Illustrator, does in fact create layers similar to what is seen in the birth certificate PDF. You can try it yourself at home.
And indeed I have done it myself. You can even see the process in a YouTube video.
2. Classmates at Colombia (sic) University think Obama lied about going there.
Maybe "Wayne Allen (sic) Root" doesn't remember Obama, but others do. See, for example, this article at Columbia College Today. There are also Columbia classmate interviews in the PBS/Frontline video, The Choice 2012.
Here's the graduates list from Columbia courtesy of Breitbart News:
3. British National Archives confirm Obama Sr. had a child in 1961 Kenya [Photo of fake certificate from Lucas Smith shown]
No one has ever produced a shred of evidence that such documentation ever existed in the British National Archives, but there is ample evidence from the US archives obtained by FOIA that Barack Obama Sr. was in the US continuously from 1959-1964.
There was a release of documents to the British National Archives in 2012, relating to the Kenyan colonial period. One of them includes Barack Obama Sr. on a list of students; however, there is nothing about him being in Kenya (which he was not) nor about a child. You can read an article on this at The Guardian newspaper.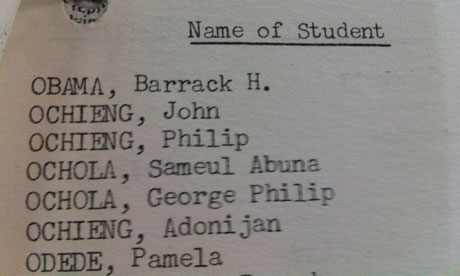 4. Obama claimed in a literary agent's bio that he was born in Kenya.
The literary agent says otherwise. The author of that bio, Miriam Goderich, told Yahoo News:
You're undoubtedly aware of the brouhaha stirred up by Breitbart about the erroneous statement in a client list Acton & Dystel published in 1991 (for circulation within the publishing industry only) that Barack Obama was born in Kenya.  This was nothing more than a fact checking error by me — an agency assistant at the time.  There was never any information given to us by Obama in any of his correspondence or other communications suggesting in any way that he was born in Kenya and not Hawaii.  I hope you can communicate to your readers that this was a simple mistake and nothing more.
5. Obama used the name Barry Sotero (sic) when he went to college.