The Maricopa County Sheriff's Cold Case Posse has been operating for over 2 years without valid corporate filings with the State of Arizona. They used a bogus address (the street address of a post office) for their place of business in violation of the statute. A notice of deficiency was sent to the CCP, and no appropriate corrections have been made. The CCP's latest filing this past Monday, June 16, still has the bogus address!
The CCP has now been given 60 days, and if they do not remedy their filings, the CCP corporation will be dissolved.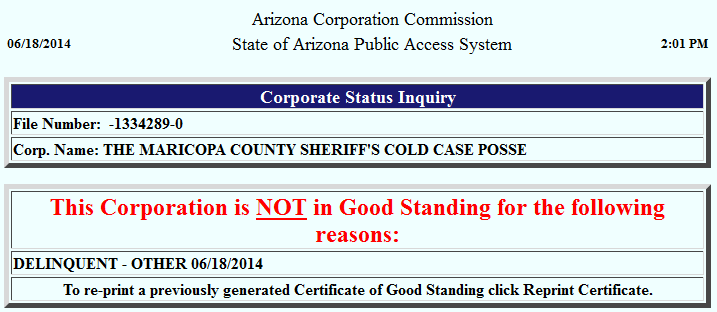 You can search for an Arizona corporation on the Commission web site (search under Annual Report). The Cold Case Posse file number is 1334289-0.
Breaking!
Zullo responds. Will use Sheriff's Office for address (only that's not really the Sheriff's office address he used). Read it all at the Phoenix New Times, where you see Zullo say:
Biiiiitch!
Even so, the Corporate Annual Report filed this past June 16, lists a 10-month-old address for Zullo at the Sheriff's Office (right). No wonder he can't respond to notices from the ACC: Zullo gave them the wrong address.