I've already mentioned a few times, I scanned my own birth certificate using Adobe Acrobat and an HP scanner, and I got layers. Of course President Obama's long form birth certificate PDF wasn't scanned using Adobe software, but the similarity in the results are striking. I think it is appropriate that I provide this information, since certain profoundly uninformed people still think that scanned PDF's don't have layers.
What I did
The hardware and software were: Adobe Acrobat Standard 9.0 and an HP Photosmart Premium C309g-m combination printer/scanner. In Acrobat, I selected File | Create PDF | From scanner | Color Document. Acrobat scanned the image. Then I selected Document | Optimize Scanned PDF (taking the default options). Finally I selected Advanced | Document Processing | Export All Images. That's all I did – no Illustrator, no Photoshop, no manual fiddling with anything.
Twelve files were exported, most of them were of the piece of cardboard I used to mask the bottom half of the certificate where my personal information is. Two of the images are of particular interest and I will include them here. The first (Fig. 1) is the background layer, and the second (Fig. 2) has most of the printing.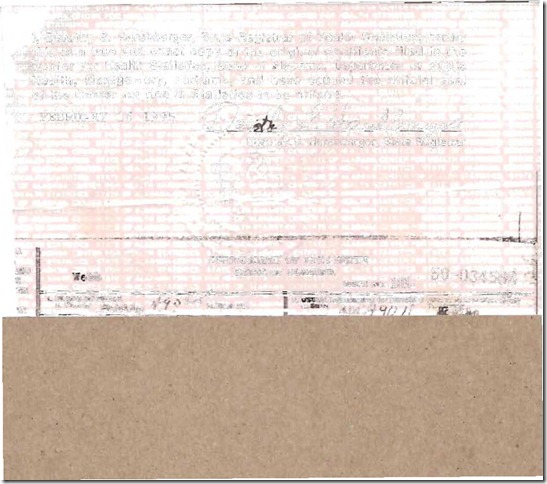 Fig. 1
Fig. 2
Results
There are three things that I would like to point out. The first is that layers were created. The second is that parts of words are found in the background layer, for example "We," while the rest of the word, "bb" is in Fig. 2. (Webb is the name of the doctor who delivered me.) When one zooms in on my PDF one can see that the two parts of the word look distinctly different. This is the same thing we see on the Obama PDF. The third thing is that part of a signature (of the state registrar) is in one layer and part in another, as is the signature of President Obama's mother on his certificate.
Anyone with the software and a scanner can to exactly the same thing I did. You don't have to take my word for it. Normal optimized scanning of a document to a PDF creates layers in standard Adobe software. If I had a Mac, I have no doubt I could show you the same thing.
Here is the PDF file created in this experiment.