There's been some discussion about the eligibility of Mitt Romney to be President. It stems from his father George's birth in Mexico and whether or not the elder [no pun intended] Romney was a really US Citizen. I'm not sure whether I want to cover this topic or not. It's not about Obama conspiracies, but it stems from the same crank legal theory that is dogging Obama, namely that US Presidents must have US Citizen parents.
Lucas Smith has a new article on his blog attacking Romney for other reasons. From the Republican point of view, one must ask whether challenges like this against Romney actually help the re-election chances of President Obama. That question reminds me of this political cartoon that appeared in my local newspaper, the Spartanburg Herald Journal. The cartoonist, Robert Ariail, was kind enough to give me permission to reprint it.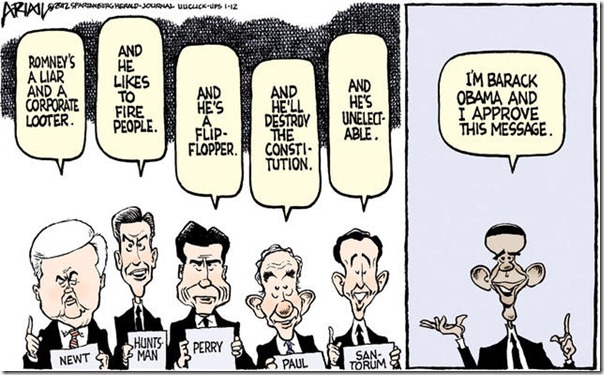 I love a good political cartoon and I remember fondly the work of Doug Marlette when he was at the Charlotte Observer in the 1970's. Spartanburg is very fortunate to have Mr. Ariail's work in the Herald Journal. He did some fantastic pieces about Donald Trump's aborted candidacy last year and his most recent cartoon is very near and dear to my heart.