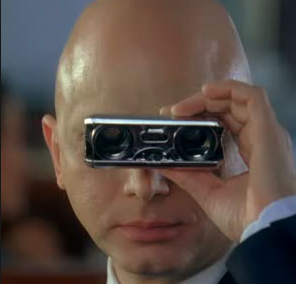 Discussions at The Fogbow and on Reality Check Radio last night intimate that there may be anti-birther observers attending the Appeals Court hearing in Taitz v. Obama at 9 am Pacific Daylight Time this morning.
If so, we may look forward to the characteristically entertaining "Boots on the Ground"™ reports at The Fogbow and possibly a special edition of Reality Check Radio tonight. When I get links to the BOTG thread and to the RC show, I'll add them to this article.
Taitz may be in big trouble as it appears that the Defendants will be represented by the terror of all birther attorneys, The Empty Chair™.
Orly has posted on her site:
Taitz v Obama was argued today at the 4th District Court of Appeal of CA. The court was full of my supporters, many of them oath keepers. Everyone felt good about the hearing, we are waiting for results. Will post TV and radio interviews when they are available
BOTG reports say Orly had about 20 supporters attending, and at least 8 Obots. Present for the anti-birther side included:
Wavey Davey
Objective Doubter
Woodworker
Dr. Caligari
Geritol
JonBeck
Kate520
For entertainment value, listen to the RC Radio Show. There wasn't really anything new that I could see. Orly was Orly. Her argument was basically what was in her brief. The judges asked no questions. Orly brought 2 witnesses, but never tried to call them. Someone commented that under California Law, the Appeal must be decided within 90 days of today.
Afterwards Orly gave an interview to this video guy that follows her around. Also Wiley Drake was recording for his own radio program. Somebody passed the hat among her supporters and she was seen stuffing dollar bills into her purse.