Trump's reign of error
The Donald has been in the news recently because he has said some things that weren't true. One was that thousands of Muslims in Jersey City were in the streets cheering the collapse of the World Trade Center on 9/11. Another was a Tweet of bogus statistics on race and crime. Trump has made so many crazy remarks that it's hard to keep track of them—everything from tax rates, the economic benefits of fracking in Ohio, the number of women and children among Syrian refugees, Hillary Clinton as birther, unemployment numbers and on and on.
Cheering Muslims on TV?
He didn't just make that stuff up. Such stories circulate on the Internet. Even the right-wing propaganda news site Breitbart News has debunked the Jersey City celebration story but debunking doesn't erase the Internet. As for Trump, he doesn't admit mistakes, rather doubling down telling George Stephanopoulos on Sunday, "It was on television. I saw it."
Black on white crime ?
The race tweet has a citation to the "Crime Statistics Bureau – San Francisco."
The statistics are completely bogus, for example 82% of murders of white persons were committed by white persons, not black. The "Crime Statistics Bureau" appears not to actually exist. The image of the gun-toting masked man in the bogus statistics image comes from a YouTube music video (that may be in Arabic—not sure):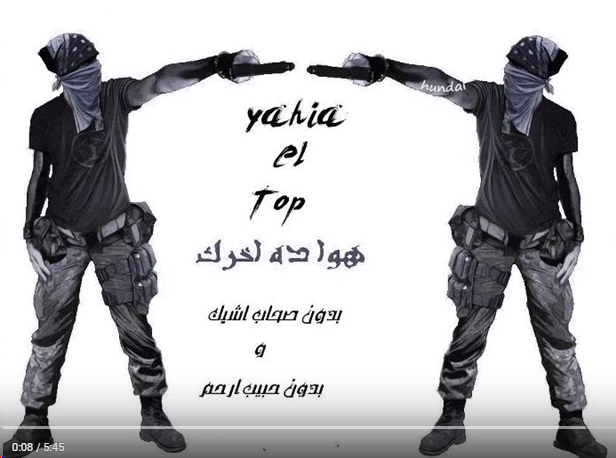 Twitter was the source of the image Trump Tweeted, according to blogger Charles Johnson at Little Green Footballs passed on from a guy with a modified swastika for his avatar.
Social Media
I see junk like this all the time on social media (especially Facebook). Trump himself seems to be trending downward on Facebook:
Opinion
It is disturbing is that a prominent public figure running for president of the United States cannot be bothered to check his facts, even though he can easily have people check them for him. A president has advisors, but Trump seems to think he needn't consult his before smearing large groups of people.
But remember, Donald Trump is a birther. What would you expect from a birther?
Read more: